The Canadian Sea Turtle Network is a charitable organization involving scientists, commercial fishermen, and coastal community members that works to conserve endangered sea turtles in Canadian waters and worldwide. The group won the 2007 Gold Canadian Environment Award for Conservation.
Kathleen Martin, Executive Director
Kathleen is a founding member of the CSTN. She is interested in sea turtles and how communication affects conservation, as well as the link between conservation and economic development. She holds degrees in English literature from the University of Toronto (Hon. B.A. with Distinction) and Queen's University (M.A.). Kathleen has been an adjunct professor in Dalhousie University's School for Resource and Environmental Studies and was a lecturer in the Fred C. Manning School of Business at Acadia University. She is an award-winning journalist, and the author of Kamakwie: Finding Peace, Love, and Injustice in Sierra Leone, as well as of seven nature books for children, including Sturdy Turtles and Floating Jellyfish.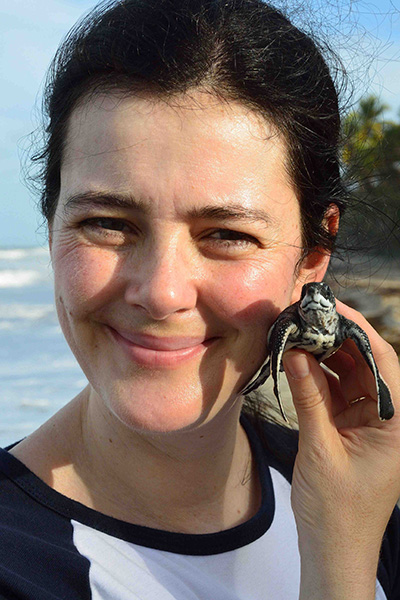 Kayla Hamelin, Coordinator of Conservation and Educational Outreach
Kayla has had diverse research experiences in marine and aquatic sciences, studying animals from zooplankton to clams to turtles. Kayla is most interested in how environmental variables affect animal distributions and what happens when those distributions overlap with human activities. She is fascinated by leatherback turtles, their jellyfish prey, and their oceanographic habitat. In addition to conservation research, Kayla is passionate about science education and outreach. She enjoys talking to the public at community events, working with citizen scientists, and welcoming visitors to the Canadian Sea Turtle Centre. Kayla holds degrees in Marine Biology and Oceanography from Dalhousie University (B.Sc., Combined Honours with Distinction), and Biology from McGill University (M.Sc.).